Organizations that are not ready to embrace change risk being overtaken by others or go to extinction. Is it possible to harness these changes? This article provides you insights on how to ride the waves of these changes.
In our highly competitive business environment, organizations must ask pertinent questions such as: What does the right project mean for my organization? Is such project targeted at cost reduction, meeting regulatory requirements, effect change, market penetration, or other strategic goals? 
The BCG matrix (Figure 1) highlights the different stages of organizational product/service cycle for market growth and sustainable development. Indeed, organizations want more stars and cash cows.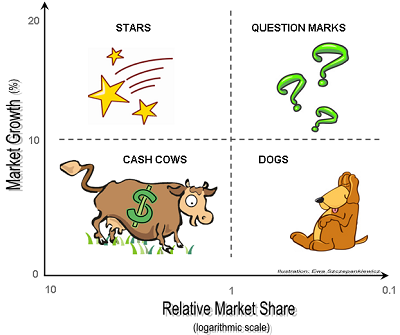 One of the engines of growth is to continuously look for new project initiatives to provide new values for customers by sustaining existing offerings, modification of such offerings or build entirely new offerings. In a rapidly changing business environment, organizations must be sure they are not only doing the projects right but also ensure they are doing the right projects to be able to sustain profitability and have meaningful growth.
This article briefly highlights the changing factors in our business environment, the reasons for such changes, the impact of these changes and suggestions on how to respond to the changes.
What is Changing and why Change?
The needs and wants of humans keep changing over the years based on the things we require to survive at different stages of our existence. The needs and desires of our ancestors as predominately hunters and gatherers are different from our current mostly knowledge-based economy.
Tony Loyd, the author of "Crazy Good Advice," posits that development of essential tools that revolutionized human existence, get compressed exponentially in time, specifically from the industrial revolution to the digital age. Possession of smarter tools enables us to carry out more activities in a shorter time, with the desired and unintended implications to our economic, energy, and environmental requirements.
McKinsey global institute identified twelve disruptive technologies poised to change our business environment with potential for circa $11 Trillion annual revenue by 2025 (Figure 2).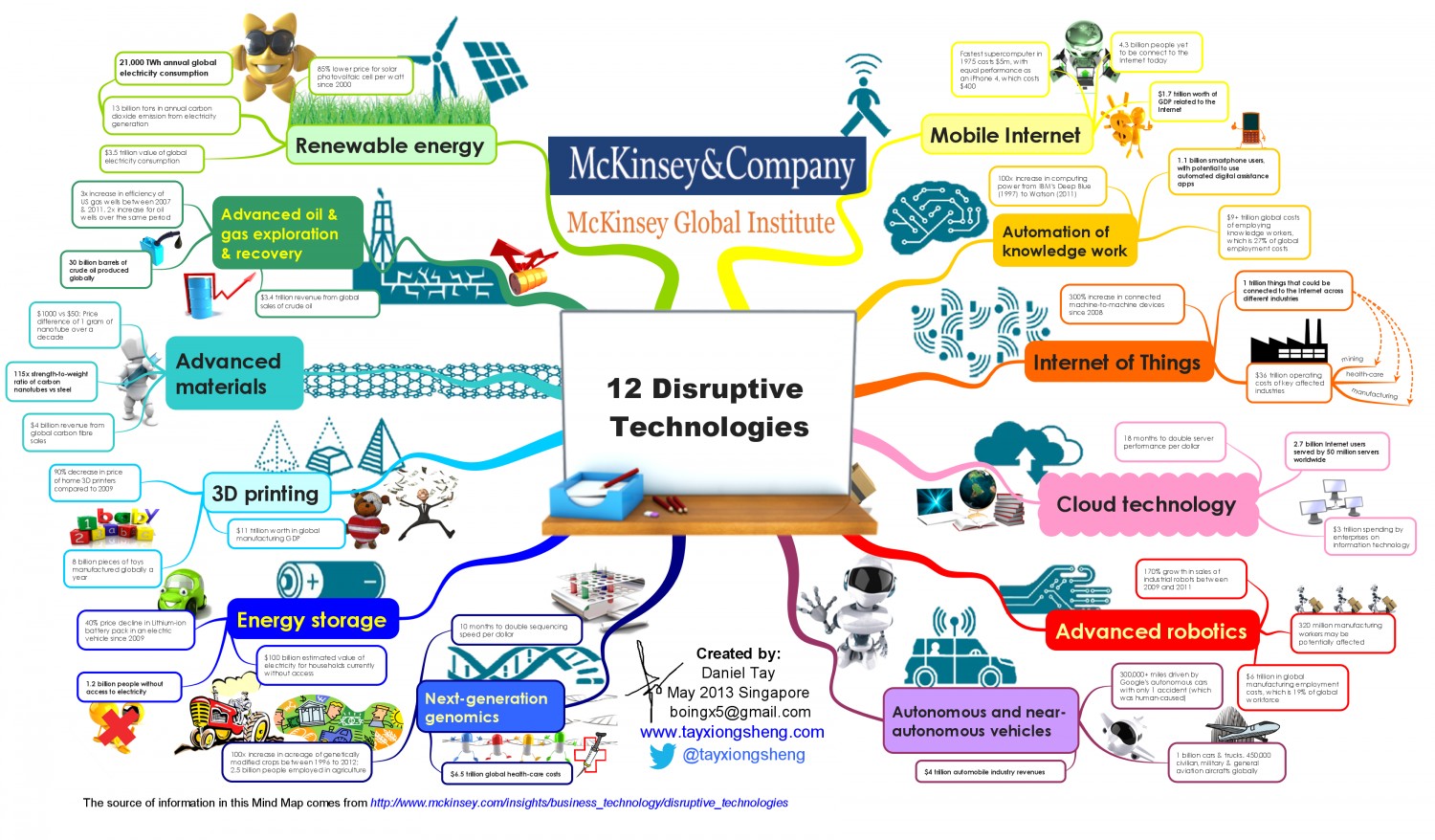 Some of these technologies are already creating new business ecosystems and building new organizations such as SpaceX, Netflix, Apple, Google, Amazon, Uber, Kompas, DeepMind, and Airbnb (still counting) with different disruptive business models. These organizations are operating in very volatile, highly uncertain, complex, and ambiguous business environments. They are susceptible to high failure rate due to a highly competitive and ever-changing business environment. Is your organization ready for these changes?
Impact of Change?
The impact of the changes highlighted above range from reduced profitability, smaller market shares and eventually business failure. Indeed, Deloitte highlighted that the average lifetime of S&P 500 companies has declined from above 60 years in the 1930s to around 15 years. List of failed companies in recent time includes Kodak, Compaq Computers, Radio Shack, Circuit City, Enron, Blockbuster, Pan Am, Tower Records, Polaroid, and Pet.com.
Some of the reasons attributed to their failure include, failure to introduce new products, inability to establish market niche, obsolete technology, lack of appropriate skills, lack of management vision, communication challenges, inadequate innovation strategy, ill-prepared for competition, changes in market conditions underestimated, technological changes, implementation of wrong projects, no or not enough investment for the future, etc.
Due to the changes in our evolving ecosystem, many failed products are now on display at the Museum of Failure in Los Angeles, New York, and Sweden to showcase flopped products. Does your organization want to avoid the impact of these changes?
How to respond to Change?
How do you respond to the changes highlighted above? Organizations must embark on continuous strategic initiatives to weather the storm of business changes. Strategic efforts should not be confined to the silos of the corporate headquarters with only a few wise men and women but should be more inclusive by harnessing the power of technology to collaborate within and outside the organization.
Organizations must continuously monitor the internal and external business environment to ensure that their business models can withstand the test of time. Organizations should understand their capabilities to innovate continually through a 360-degree survey that enables benchmark with global innovators using business analytics, providing an opportunity to collate ideas throughout the organization and beyond using ideation tools as highlighted in the Innovation360 innovation process (Figure 3).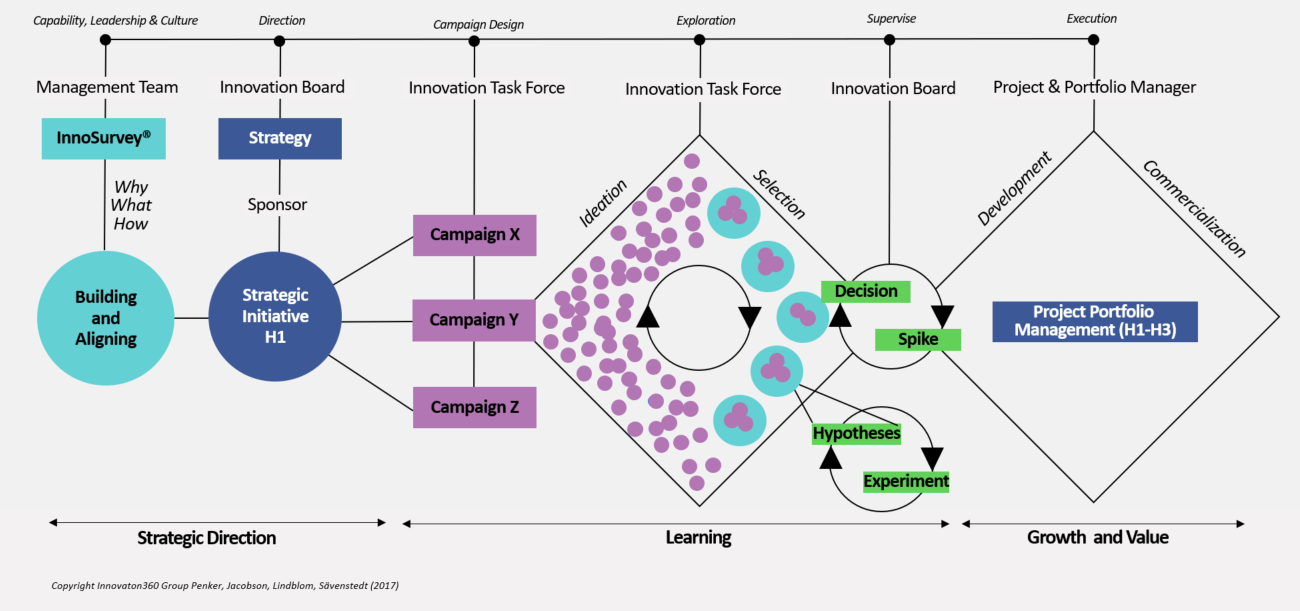 Indeed, there must be an enabling environment for change with inclusion and diversity in the workforce.
Lastly, organizations must get help from experts and take advantage of the relatively cheap cost of using independent consultants provided by disruptive technologies and opportunities for open innovation via collaboration. Do not wait for change to hit you, shape tomorrow through cross-discipline applications, collaborations, open innovation, experimentation, and thinking outside the box.
About the Author
Taofeeq is an innovative leader and strategic problem solver. He is an Innovation360® Licensed Practitioner, NVivo Certified Expert (qualitative analytics), Project Management Professional (PMP) and a Chartered Supply Chain Practitioner (MCIPS) with over 29 years' experience spanning the energy industry, manufacturing and academics. He is an independent consultant with Consult 2050 and Adjunct professor at Southern New Hampshire University and New England College of Business both in the U.S.