Procurement is recognized as a fundamental part of business and most effective way to maintain long-term risk and cost control. Are strategic procurement decisions in your business made in isolation or do you utilize the full potential of your procurement team? And where do you fit?
Only 51 percent of corporate risk control and spending that's managed by the procurement team is managed with a level of "discipline", this results in $14 million in missed annual savings for the average-sized large firm, according to Corporate Executive Board data.
A great article by Martin R, an expert in supply chain management and consultant with Consult 2050.
Mapping the buy
Previously, when conducting procurement audits within the industrial, oil & gas inspection and construction industry, I noticed that 90 percent of my clients did not have control over their procurement spend, nor did they categorize items correctly to minimize risk/impact and reduce annual spend. I used six sigma value stream tools and mapping the buy tools in order to mitigate these constraints.
Mapping the buy becomes critical when buying different items which make up the final product which you sell. Still, most companies put all types of items in the same category when purchasing which leads to out of stock situations and further demand/supply and vendor issues.
Mapping the buy means dividing the items you buy into certain categories and treating them differently. A computer manufacturer will have items such as the keyboard, box-packaging, screen and a computer chip. When buying each of these types of items you need to ask: How much does each cost? How many do we buy? How many suppliers and how unique is the product?
Therefore, you can map the buy of all items on two dimensions, which are the risk/impact and annual spend. When buying many different items, it will help you to classify them in the different categories, which namely can be placed on a quadrant- i.e. Tactical, Leverage, Critical and Strategic.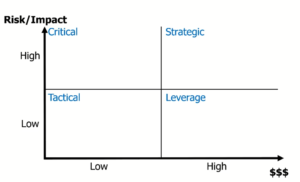 Tactical: Tactical would be more your common items, with low risk, many suppliers and low cost. In this case, many transactions occur against low values. Your main strategy therefore would be to lower the amount of transactions by consolidating them.
Leverage: Many suppliers, not complex but high item price, so you need to look at alternatives. This category is where much of the dollars are spent. You therefore need to focus on to buy on a volume base – to ensure that the total landed cost is minimized, you should have list of multiple suppliers to be able to switch suppliers. Analyze your suppliers on a regular basis and keep contracts flexible and short term. Supply continuity is critical with your supplier. Global and active sourcing is the focus.
Critical: You can have potential problems due to the complex market, low price, not many alternatives of products and therefore you don't have much leverage with the supplier. Critical products include special items such as capital equipment. To decrease product variety is important, so you need to reduce the number of SKU's and standardize your product. This for example can be capital equipment. It is important to manage assets over their lifetime than to replace them often.
It is important to ensure availability by placing high levels of safety stock and to have long term contracts with your suppliers. Looking out for alternative suppliers will put you in a favourable position. When buying items, the cost of the item from the supplier/s is not always clear, therefore it is important to conduct a cost analysis to model the drivers of the cost and to use internal comparisons. This will assist you when negotiating with your supplier. Simplify the buy is also key with critical items.
Strategic: Strategic items are your competitive advantage, or potentially your USP. It's a high cost, risk and impact. Long term contracts with your supplier is important with a potential gain sharing model. Strategic items costs are high, therefore shared cost reductions should be negotiated. For strategic items partnerships is critical with your supplier. Joint product development is possible or even co-investment. Even, possible vertical integration could happen, where you buy the supplier with the benefit of risk reduction, control and sustainability.
The problematic buy is mainly the critical buy, and ways to reduce the risks are to move more towards the tactical buy – find more suppliers or lower complexity, or to move more towards the leverage buy – consolidate the buy or to partner with others or to move towards the strategic buy – to increase value and to partner with your supplier.
Procurement should be focused on more than just spend. When the "buy" is segmented on complexity vs. spend, most companies will see control over spend, the supplier, cost reductions and improved demand/supply balances.